Canines for Disabled Kids
(aka) Canines for Disabled Kids Inc

65 James Street
Suite 210
Worcester, MA 1603
Phone: 978-422-5299
Mission
Increasing independence for children with disabilities and their families by promoting service dog partnerships, understanding and awareness throughout the community.
Real Life Story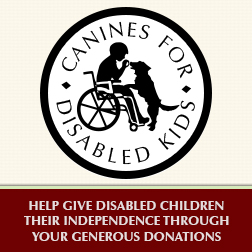 Independence...the freedom to do what we want to do, when we want to do it. For a child with disabilities independence comes with four legs. Opening doors, turning on a light, picking up a dropped item, or hearing a loved one call your name. These are just a few of the ways a service dog can help bring independence to people living with disabilities.

The following is a story about Justin and his service dog Pivy titled "A Glimpse of Heaven!" written by Justin's Mom.

"I remember reading that when you hear a child laugh you get a glimpse of heaven. Little did I know that the sounds of laughter I heard from my beautiful baby boy would slowly turn into tears, frustration, and silence. Justin is now 10, and even though I remember those emotions I felt when I first realized Justin had autism, I now know no other way. Justin and his autism are one. But, in my saddest days I still wish that Justin was free from the challenges of this unthinkable disability. That he could be free to have the experiences that typical children do. That he could play catch with his dad or that he could sing.

Then, one Sunday morning, loud and joyous giggles emerge from the living room. Pivy races back and forth with her boundless energy. Her playful movements grab Justin's attention from his inner thoughts to a place of infectious laughter. My husband, daughter and I hear the giggles from the other room and we too laugh. Imagining Justin's face and hearing the interactions between Justin and Pivy delight us all, I stop and think... Wow. I am blessed... I got a glimpse of heaven today!"