Children of the Night
14530 Sylvan Street
Van Nuys, CA 91411
Phone: 800-551-1300
Mission
Rescues young people worldwide from the ravages of prostitution. Providing social services, online schooling and new-beginnings. With your support, we can save more. Our children deserve a fighting-chance!
Real Life Story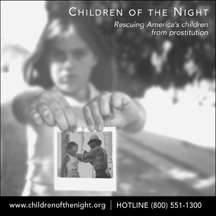 NANCEE

Nancee was referred to the Children of the Night shelter home after being rescued from sex trafficking by the Colorado FBI. During her stay she completed her GED (High School Equivalency Exam) and she successfully completed Business 01 and English 28 at the local community college. Nancee enjoyed her boxing hobby at The House of Champions.

Upon successful completion of the Children of the Night residential program, Nancee moved into a transitional living program where she can attend college, work part time and live until she is 22 years old. Just last week she obtained her first job and enrolled in the local community college.

Many of our younger residents look up to Nancee and want to follow her footsteps.

DENISE

Denise came to Children of the Night when she was just 14 years old. An NYPD detective reached out asking us to help her because she had been sex trafficked and was living in a dangerous situation.

She lived at Children of the Night for 3 years and is just now graduating High School (June 2017) and she is only 17 years old. During her stay at Children of the Night she attended community college classes and studied Spanish, English and sign language. Denise excelled in Muay Thai Martial Arts as her hobby and attended a college prep camp at Stanford University in the Summer of 2015.

Based on Denise's success she has been selected to participate in a Youth Mentoring Program (a paid internship) at Jamaica Hospital this summer. Denise looks forward to a nursing education and career with a specialization in Sports Medicine.